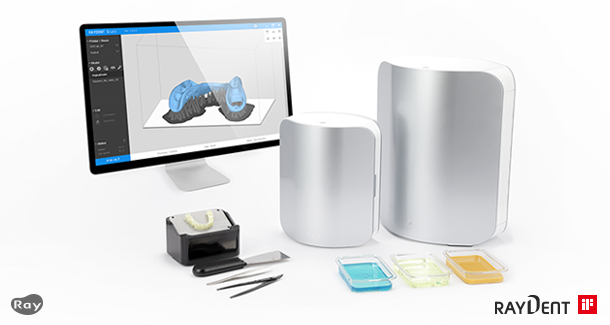 COLOGNE, Germany: Ray has released the new 3-D printing solution RAYDENT Studio, which enables dental clinics and laboratories to produce accurate dental appliances faster.
At the 2017 International Dental Show (IDS), Ray is currently showcasing the product, which aims to help dentists implement true digital dentistry technology in their practices, as well as its market-proven CBCT, panoramic, cephalometric and intra-oral radiographic solutions.
RAYDENT Studio enables the in-office production of customised dental prostheses and surgical stents, among others, through simple processes. Dental technicians benefit from the fast and easy operation designed to maximise time flexibility while minimising energy consumption. With its state-of-the-art technology, the dental 3-D printer offers a simplified workflow.
The minimal and compact design reduces space requirements in dental clinics while improving the workplace environment. The design excellence of RAYDENT Studio has just been recognised with the 2017 iF DESIGN AWARD. The RAYDENT software features an intuitive user interface, and the simple calibration steps make the 3-D printing device more user-friendly.
Ray's CEO Dr Sang Chul Lee said: "RAYDENT Studio provides dental clinics with one of the easiest to implement digital impression and printing solutions in the industry and that is the main message we would like to communicate to our customers and visitors at IDS this year. In addition, Ray will be expanding the dental CAD/CAM product line to complete its true digital dentistry solutions."
Besides the fast and precise 3-D printing device, the industry-leading CBCT system RAYSCAN α+, the digital imaging plate scanner RIOScan and the intra-oral scanning sensor RIOSensor are being exhibited at Ray's booth (G019) in Hall 4.2 until 25 March.
http://www.dental-tribune.com/articles/business/europe/33460_ray_launches_raydent_studio_3-d_printing_solution_at_ids.html
View above link for information.